Blog


Four global problems that will be aggravated by the UK's recent cuts to international aid

UK economic forecasts have improved markedly since the September 2022 mini-budget. The economic recession may now be more shallow and public borrowing lower than previously expected.

However, faced with persistently high inflation and continued uncertainty caused by Russia's war in Ukraine, financial cuts remained the order of the day in the UK government's spring 2023 budget announcement.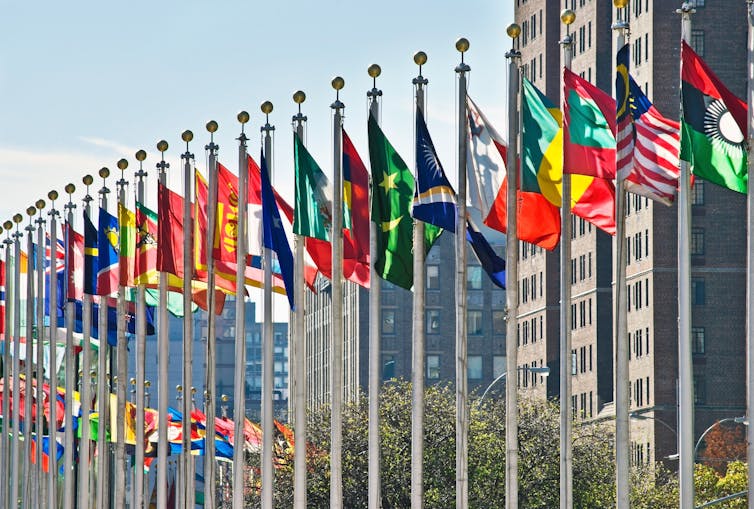 While Chancellor Jeremy Hunt introduced a £5 billion increase to military spending over the next two years, the international aid budget was cut for the third time in three years. This is part of an increasingly concerning international trend.
UK aid has been deceasing since 2019. And the country is not alone in cutting its aid commitments. Sweden – one of the world's leading donors in this area – is also set to abolish its target of spending 1% of GDP on aid. Across several European countries, recent cuts have largely been driven by the Ukraine war, as well as national pressures caused by the COVID pandemic.
And yet aid is sorely needed if the world is to meet the 2030 Agenda for Sustainable Development, a plan to end world poverty agreed by UN members in 2015. The "great finance divide" – which sees some countries struggle to access resources and affordable finance for economic investment – continues to grow, according to the UN, leaving developing countries in Asia, Africa and Latin America more susceptible to shocks.
The UK and Europe's support for Ukraine is admirable and much-needed. But when countries are faced with important domestic political and financial challenges, governments tend to look inwards – often in an attempt to rally their electorate.
Cuts to aid budgets are one example of this. For the UK in particular, neglecting multilateral solutions to important global challenges could actually exacerbate what are thought of as "domestic issues". Our research highlights four such issues that could be affected by the UK's budget cuts.
1. Increasing poverty could affect global stability
While the exact direction of the relationship remains up for debate, poverty is an important cause and effect of war. We know that up to two-thirds of the world's extreme poor (defined as people earning less than $1.90 a day) will be concentrated in fragile and conflict-affected countries by 2030.
Research shows that aid promotes economic growth. So, reducing international aid will only exacerbate these recent negative trends. According to the chief executive of Oxfam GB, aid is an investment in a more stable world – something that is in all of our interests.
2. Extremism could spread as western influence falls
Violent extremism is on the rise in Africa. It reduces international investment and undermines the rights of minority groups, women and girls. This goes against important UN sustainable development goals aimed at building peace and prosperity for the planet and its people.
Reducing international aid will create opportunities for new political actors to emerge and influence the direction of countries with weak government institutions. Cutting back western influence in international architecture (especially while these countries support a conflict in their own continent) may also be resented by countries in other parts of the world that would like more support.
3. Democracy could be threatened in some countries
When aid is provided in the right way, it can give a boost to democratic outcomes. Again, if western, democratic and liberal states don't support countries struggling to tackle poverty and extremism, other actors could step in.
Russia's increasing involvement in the Central African Republic and Burkina Faso are recent examples. Equally, China's Belt and Road Initiative (through which it lends money to other countries to build infrastructure) has significantly broadened its economic and political influence in many parts of the world. But some experts fear that China is laying a debt trap for borrowing governments, whereby the contracts agreed allow it to seize strategic assets when debtor countries run into financial problems.
The growing influence of both states may explain global trends towards democratic backsliding because research shows democratic stability is often undermined in waves. In recent UN votes, Russia and China's growing influence via such aid has been seen to bear fruit. For example, in October 2022 Uzbekistan and Kazakhstan –- both temporary members of the UN Human Rights council –- voted against a decision to discuss human rights concerns in China's Muslim-majority Xinjiang region.
4. More countries could struggle to welcome refugees
People flee their homes for many reasons but mostly due to conflict, violent extremism and poverty. Most refugees do not travel to western countries such as the UK, although the number of people arriving in small boats across the English Channel has risen substantially recently.
But there are more "internationally displaced people" than refugees. That is, most people fleeing war remain in their country, while refugees tend to remain in neighbouring states.
Turkey receives the highest numbers of refugees due to its proximity to the ongoing war in Syria, and Poland welcomed the highest number of refugees fleeing the war in Ukraine.
This, combined with the fact that countries most likely to experience conflict are geographically distant from the UK, indicates that numbers seeking asylum in the UK will remain relatively low. But reducing aid will impose further pressures on poor countries that are already struggling to accommodate refugee flows, as well as increasing push factors for migration from fragile regions.
International aid should be one of many solutions
Failure to tackle global problems like poverty, extremism, and democratic backsliding could further destabilise fragile regions. This will have human costs including increased numbers of desperate people attempting to cross the channel.
Aid is an investment in a more stable world. Deals with France or the risk of deportation to Rwanda will have limited impact on reducing the number of people arriving on small boats if the root causes of their migration are not tackled.
In our globalised world, looking inwards can only exacerbate these problems. It is crucial that states adopt multilateral solutions – including funding international aid programmes – to tackle global problems.
Patricia Justino Deputy Director at UNU-WIDER and Professorial Fellow at the Institute of Development Studies (IDS) in Brighton, UK (on leave).
Kit Rickard is a Research Associate at UNU-WIDER and UCL.
The views expressed in this piece are those of the authors, and do not necessarily reflect the views of the Institute or the United Nations University, nor the programme/project donors.
This article is republished from The Conversation under a Creative Commons license. Read the original article.